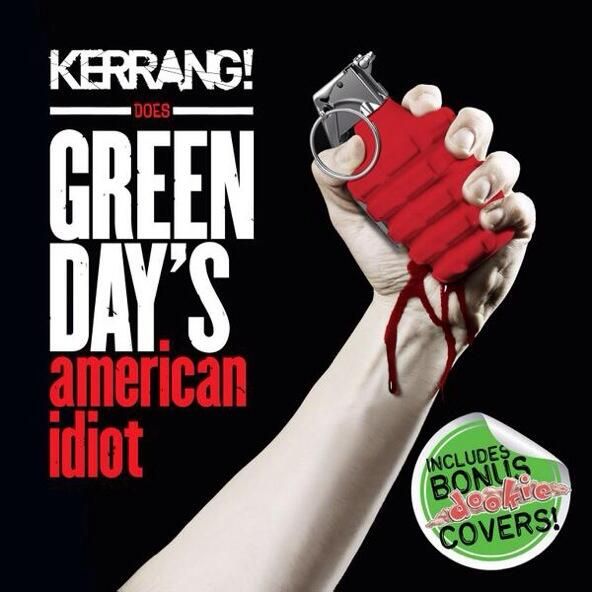 Kerrang's tribute to 'American Idiot' was released June 11, 2014 through Kerrang Magazine. The album features 15 different bands, each playing a different song off American Idiot, with two additional bonus songs from Dookie at the end.
Let's get one thing out of the way right now, this a tribute album with covers by other artists. It's never going to compare to the originals. It's not supposed to. If that's where you're expectations are set for a cover, you're going to be disappointed every single time.
"American Idiot" by 5 Seconds of Summer
The album opens with a cover from 5 Seconds of Summer. I didn't know this band before this tribute, and since it was announced, all I heard was Green Day fans complaining that a band that toured with One Direction was touching anything by Green Day was blasphemous. Of course I've been here long enough to know that Green Day fans pretty much hate anything they can, so always take everything with a healthy serving of salt. This time, I think it's entirely unwarranted. I still know nothing about 5 Seconds of Summer, but their cover of "American Idiot" was pretty good. I don't like that they censored "faggot", but still the vocals were pretty solid, the sound was good. Not a huge fan of the guitar in parts, it sounds chopped off so it comes across as a bit artificial, but overall I enjoyed it. 4/5
"Jesus of Suburbia", "Holiday", "Boulevard of Broken Dreams"
Next we have covers of "Jesus of Suburbia", "Holiday", and "Boulevard of Broken Dream"s - all by different bands, but all three suffering from the same issues. Parts of the songs are good, I'd even say they're strong. The first two songs quickly devolve into screamo with some double-kick on the bass drum that feels so out of place in a Green Day song. I enjoyed the guitar change in "Holiday", though different, still plays out well. But I can't get over the heavier sounds. That's just not my cup of tea when it comes to music. As I
wrote on twitter
, they're "not terrible, but I got scared." "Boulevard of Broken Dreams" is better, but sounds like they ran the original through a Rise Against filter to make it faster and toughen it up. 2/5
"Are We The Waiting" by You Me At Six
"Are We The Waiting" by You Me At Six is a step back in the right direction. +1 for no screaming at least. But the song is almost identical to the original, but not quite as sharp. If you're not going to change anything about the song, I felt the cover could have been a little stronger. But still, a step in the right direction. 3/5
"St. Jimmy" by Bowling For Soup
"St. Jimmy" by Bowling For Soup was the cover I was most excited to listen to. I love Bowling For Soup. Sadly their version didn't live up to my expectations. It's a good cover, but the production of it feels weak - not something I'm used to in BFS. They didn't change much, it's close to the original, and I think it could be one of the better covers if it sounded more like the Bowling For Soup I know and love. 4/5
"Give Me Novacaine" by Escape the Fate
"Give Me Novacaine" by Escape The Fate, same feelings as that of Jesus of Suburbia. Okay cover, but more screaming and double-bass. Still feels too weird for a Green Day song. 3/5
"She's A Rebel" by Falling in Reverse
She's A Rebel by Falling In Reverse is fantastic for a couple reasons. Most of the song has a very good 'punk' feeling to it. It has the almost echo sound of Rancid (like the guitars and vocals are running through some shitty amps, but in the best way possible) . The real highlight is the breakdown though where the band goes all meta and accurately predicts the rest of this tribute album by saying "What's up kerrang, how you doing? We're going to do like every other band and put a breakdown in the middle of a fucking cover song", then going in to an over-the-top screamo breakdown. That was pretty damn awesome of them. 4/5
"Extraordinary Girl" by Frank Iero
Next up is "Extraordinary Girl" by Frank Iero, of course best known from My Chemical Romance. He was the one most people on the forum seemed excited to hear. And then we did, and it was terrible. I called it the "Frank Iero finds the reverb button" track. There's an overbearing amount of reverb on everything, it sounds like the music in a movie when someone starts going on a bad trip. I'll give him credit for trying something different, but that's about it. 1/5
"Letterbomb" by LostAlone
"Letterbomb" by LostAlone is one of the best covers. It's close to the original, but they changed a few things that I think fit really well. The vocals were also very strong. It's sad that as I listened I was almost preparing myself for the screamo breakdown waiting for them to ruin the song - but thankfully it never came. I enjoyed the cover. 4/5
"Wake Make Me Up When September Ends" by The Defiled
"Wake Me Up When September Ends" felt like an odd bi-polar version of the song. The soft parts were well done. It had a good start that had me impressed. Then you jump in to the chorus and there's the screaming again. In this song, it feels a bit more off-putting than the others because the tempo of the rest is pretty melancholy. 1/5
"Homecoming" by Lonely The Brave
"Homecoming" by Lonely The Brave is another pretty solid cover. It's very similar to the original, they didn't mix it up much, but they covered it well. The singers voice is the only major difference from Green Day's version, he makes Billie Joe sound adolescent. The overall quality on such a mish-mash of a song was pretty good though. 4/5
"Whatsername" by New Politics
The final track on American Idiot, "Whatsername" by New Politics. This track stands out the most the me. It's a nice original take on the song, less punk rock, more indie rock and a nice acoustic intro. Easily my favorite cover. It's basically the opposite of the screaming that I endured through 90% of this album, and a nice way to cap off the tribute. It's probably the only song I'll actually thrown on my playlist to listen to again. 5/5
"Welcome to Paradise" by State Champs and "Basket Case" by The Swellers
The final two songs are off Dookie, and they are pretty good covers. These bands didn't change anything up from the original, it was a tribute in the very essence of a tribute - playing them like the original. Nothing new or ground breaking, but still a good sound. 3/5
Conclusion
Overall I'm giving this album a 2/5. There were some really good stand out covers, but the majority of the album felt like Green Day turned screamo. For people who like the style, it's well done. My bias comes in as someone who mostly listening to pop punk and most screaming in music just puts me off. I'm a pussy, I don't like people yelling at me. As a tribute album, it's alright. I truly wish Kerrang would have reached out to more punk bands who I think could have done something more interesting. I'm curious what you guys think, please vote below.
How do you rate this album out of 5